Very pleasant one-story 132m2 home with lots of natural light, wooden frame. Built in 2008, comfortable, practical and eco-friendly design. Comprising: entrance hall with cupboard, lounge, living room, 45m2 dining room with insert fireplace, kitchen with 13m2 conservatory, leading to a living room, terrace and back kitchen. Office looking out on to a patio, 2 bedrooms (roughly 11 and 12m2). Bathroom, separate toilet. 20M2 master bedroom looking out on to the garden (walk-in wardrobe, wash room, toilet). Courtyard, garage, terrace. Heated swimming pool (heat pump)
All on a beautifully landscaped 647m2 site with trees
The neighbourhood benefits from the infrastructure and governmental support of La Rochelle, 2.5km from Chatelaillon, accessible via cycle paths. 10 minutes from La Rochelle and Ile de Ré. 1.5Hrs from Bordeaux and Nantes. 3 hours from Paris on the TGV/LGV. 1.5 hours from London via La Rochelle/Ile de Ré airport.
La Rochelle is the capital of the Charente-Maritime region and has 76,711 residents it is one of the most attractive and dynamic cities in France. A one thousand year old city with its eye on the future, La Rochelle is a beautiful and generous city that manages to preserve exceptional natural and architectural assets while developing its own area in an innovative, sensitive and harmonious way. Nestling at the heart of the Atlantic sea front, the city has been able to turn its solid maritime base into a fantastic economic, tourism and cultural asset. It is only 20 minutes from the La Rochelle-Ile de Re Airport which serves a number of European destinations.
Fees: 2.98 % including acquisition charge and taxes (€349,000 before fees) Sales Agent
To receive more information about this property and to be put in touch directly with our local agent, Christophe JEAN, please fill in the form below.
DPE 147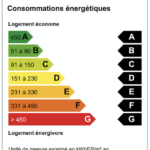 GES 7