Close to AUBENAS, the main hub of the Ardeche area, with easy access to all amenities. 1 Hour from the A6 autoroute, 2 hours from the A11.
In a dynamic town of about 1,500 inhabitants which is rapidly growing.
This is a seven room house, built in 1997, with a full basement.
Constructed from 20 cm thick poured concrete, full insulation in the ground floor interior walls.
Underground parking space for 4 cars. Workshop with natural light.
Laundry area, storage space, boiler room with fuel tank.
Area of basement, including boiler room: 189 m²
Traditional wooden frame with terracotta tile covering, in excellent condition.
Comprising: hall, lounge, living room, dining room, kitchen and storage room, with a combined area of 76 m²
Several large loft rooms, 4 bedrooms (each 11 m²) in the WEST wing, laid out across 2 levels, with a toilet and wash room on each
One 11 m² bedroom in the central section with wash room and toilet
One 16 m² bedroom in the EAST wing with en-suite bathroom and walk-in wardrobe.
Wardrobes and storage space in all bedrooms.
Exterior joinery with double-paned windows.
Fuel central heating with radiators in every room.
Wood-burning fireplace in the lounge.
Outside, there is an old stone barn, restored and partially refitted.
Large 12 m x 6 m swimming pool.
Nearby, there is a large summer kitchen under a canopy, with a wash room, toilet and stone bread oven.
No work needed!
LIVABLE AREA = 194 m²
ADDITIONAL AREA, INC. OUTBUILDINGS = 75 m²
Swimming pool = 72m²
Sales Agent Sextant France – Marcel Kuchler agent for THUEYTS – More information on www.sextantfrance.fr ref. 6823
To receive more information about this property and to be put in touch directly with our local agent, Marcel Kuchler, please fill in the form below.
DPE 218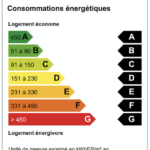 GES 47