Apartment-Terrace: in la Presqu'île, right at the heart of the region's biggest economic centre.
Come and discover this superb and apartment for sale in a historically notable building:
Top of the range facilities, RT 2012 certification, reduced by 30%, controlled and sustainable charges guaranteed, well above standard.
High-performance equipment guarantees an energy consumption level less than 30 % of that required by the RT 2012 regulation. The apartments are connected to a ''Smart Grid" system which allows residents to monitor their heating and hot water electricity consumption from a videophone in each apartment. Using geothermal principals, a pump captures heat from the ground close to the residence in order to control the temperature of your floor via an interior water circulation system. Material performance: airtightness of joinery, reduction of thermal bridging, water permeability tests carried out after build completion. A very innovative residence in terms of design, located just 5 minutes away from the train station by tram.
3 Bedroom comprising: a LIVING ROOM/ KITCHEN 29.85 m², BEDROOM 1: 14.95 m², BEDROOM 2: 10.30 m²,
BEDROOM 3: 10.85 m² + cupboard
BATHROOM: 2.50 m², BATHROOM: 5.30 m², HALL: 2.90 m², TOILET: 1.90 m². LANDING: 4.05 m².
TOTAL AREA 82.60 m²+ STORAGE ROOM: 1.15 m² TERRACE: 44.35 m² on the 12th floor, comprising a kitchen: 7.05 m², and a TOILET: 1.20 m².
DOUBLE GARAGE.
All services and amenities are accessible on foot.
Grenoble is a city in southeastern France, at the foot of the French Alps where the river Drac joins the Isère. Located in the Rhône-Alpes region, Grenoble is the capital of the department of Isère. The proximity of the mountains, as well as its size, has led to the city being known as the "Capital of the Alps". Grenoble's history goes back more than 2,000 years, at a time when it was a small Gallic village. While it gained in stature by becoming the capital of the Dauphiné in the 11th century, Grenoble remained for most of its history a modest parliamentary and garrison city on the borders of the kingdom of France.
Sextant France – Gerard Picaud agent for GRENOBLE – More information on www.sextantfrance.fr ref. 6745
Fully compliant with the legal statute on condominiums. Lot No.: 42
To receive more information about this property and to be put in touch directly with our local agent, Gerard Picaud, please fill in the form below.
DPE 50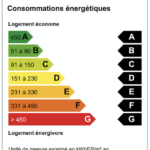 GES 0