At the heart of an old Medieval village, this striking family residence with 10 main rooms is in perfect condition. The current construction dates from 1820, and is situated at the foot of a medieval castle. Behind its traditional road-front façade, this house has hidden gems: until the beginning of the 20th century, it was home to a wine seller who took advantage of the 500m2 cellar network beneath the foundations of the castle. These cellars are still in perfect condition. It has since been transformed into a very comfortable home. With its unusual wood and glass façade, the property offers an exceptionally bright 60m2 living room with a ceiling nearly 8 metres in height, as well as panoramic views from the 100m2 terrace, and even an ancient tower. Another 45m2 living room with beautiful wooden floors has a more secluded atmosphere, and there is also an office, an expansive entrance hall, a laundry area, bathroom and toilet. Across 2 floors, 6 beautiful bedrooms with storage space, 3 bathrooms and 3 toilets. This beautiful residence is in perfect condition, and would be suitable either as a guest house or a home in which a new family could start their journey. There are many cultural and sporting activities within easy reach: a medieval castle, Bec Hellouin abbey, canoeing on the Risle River, cycle paths in Evreux and Bec Hellouin (named France's Most Beautiful Village), horse riding, local swimming pool. The property is topped off by a private access path to the Risle river. Fees: 3.75 % including acquisition charge and taxes (530,000 € before fees) Sales Agent Sextant France – Nathalie Alamargot agent for DEAUVILLE – 07 86 21 56 09 – More information on www.sextantfrance.fr ref. 6153
Fees: 3.75% including acquisition charge and taxes (€530,000 before fees).
To receive more information about this property and to be put in touch directly with our local agent, Nathalie Alamargot, please fill in the form below.
DPE 191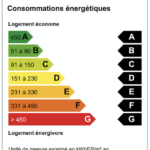 GES 45