Exceptional 115 hectare estate close to Bergerac, comprising of meadow, wood and crops.
This beautiful castle is waiting to be turned into an exceptional residence with lots of natural light and a very agreeable ambiance. The land is very well oriented: at the top of a hill and centred.
The buildings are mostly in their original state, and can be enjoyed as they are or easily renovated.
The main courtyard in the south section is the ideal place to enjoy sunshine year round, and the view from the reception rooms is largely dominated by the Dordogne valley.
An expansive 1100m2 outbuilding close to the east wing could be used for farming or as part of a tourism enterprise, for example, as an events hall.
The houses located further back in the estate could be used as staff housing or for farming.
The Perigord style building, in need of renovation, would be ideal as a residence for guards.
If this listing catches your eye please don't hesitate to get in touch for more information and to arrange a visit – you may find the house of your dreams at the end of a long private driveway..!
Bergerac is the largest town in the Perigord Pourpre department, an area that derives its name from the purple grapes that grow in the region's 125 sq km of vineyards. Set on a riverbank, it was once a flourishing trading port and has easy access to the surrounding countryside and many famous wine producers. The town of Bergerac offers superb cultural variety and numerous events are organized throughout the year. 5 days a week there is a street market with a wide range of fresh local products. The town has become renowned for numerous disciplines, particularly rowing, woman's handball, parachuting, and rugby and also promotes other activities like horse riding, harnessed horse competitions, tennis, regattas, fishing, cycling, rally and many more. Bergerac has its own airport with several low cost flights to the UK.
Sales Agent Sextant France – Christophe Advielle agent for SAINT SAUVEUR – more information on www.sextantfrance.fr ref. 7992
To receive more information about this property and to be put in touch directly with our local agent, Christophe Advielle, please fill in the form below.
DPE 187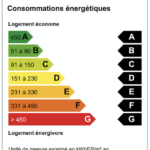 GES 37