You are sure to fall in love with this beautiful 18th century family home, situated in a protected farming village but with convenient access to the autoroute. It includes a historic 160m2 forge, tastefully renovated in 2011, on the ground floor, an expansive living room with fireplace, looking out onto a wrought iron veranda, on the first floor, 3 bedrooms with wooden floors, on the second floor, 2 large bedrooms in need of freshening up, 4000m2 wooded country garden with 2 entrances Fees: 5 % including acquisition charge and taxes (€335,000 before fees) Sales Agent Sextant France – Michel Douberchtein agent for HONFLEUR – 07 80 49 27 32 – More information on www.sextantfrance.fr ref. 6446
Fees: 5% including acquisition charge and taxes (€ 335,000 before fees).
To receive more information about this property and to be put in touch directly with our local agent, Michel Douberchtein, please fill in the form below.
DPE 228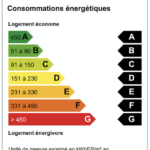 GES 6