8 km from Limoges airport, 15 minutes from the regional capital, a magnificent 340m2 residence dating from 1911, fully restored with lots of character and quality materials
70m2 living room with an office space, fully fitted and equipped kitchen, laundry area, access to park,
On the other side of the house 4 large bedrooms (three 20m2 and one 15m2), 3 wash rooms, with no work necessary!
Decor is a mix of modern and vintage, beautiful high quality materials, stretch ceilings in some rooms, exposed beams in others, sleek wall coverings, lots of cupboards and storage spaces.
A 28m2 mezzanine has been transformed into a reading room and tv room, overhanging the living space.
On the garden level, there is a garage with sectional door, a workshop, and a cellar with space for a car, a woodshed and a swimming pool.
There is a 50m2 two room apartment accessible from the mezzanine and via a private entrance, which may be rented year-round or used as a gite, with a kitchen, back kitchen and wash room. The property is brand new and very functional, with dedicated heating and hot water systems.
There is also 200m2 of loft space with a very high ceiling to be converted if desired.
With a large terrace spanning the length of the building, including a covered area near the swimming pool, you will be able to enjoy the view over the landscaped, wooded park land, in this quiet area, not overlooked from any side, all while in the very heart of the town, with shops nearby.
Thanks to the high quality materials, the aluminium and wood windows, the underfloor heating and the excellent insulation, energy consumption levels are very low (EPR C). The property is already connected to the community sewage system.
Limoges is the administrative capital of the Limousin region in west central France. With a 2,000-year history, the city benefits from a diversity of architecture ranging from ancient remains to Art Deco. Limoges is famous for its Arts of Fire, a unique heritage of a craft industry producing enamel, porcelain, and stained glass windows. Limoges also offers numerous charming walkways, parks, and gardens in the city centre, as well as many sites to visit and a dynamic cultural life. The city is easily accessible from the UK with the Limoges International Airport offering low-cost flights.
This exceptional property is presented to you by Dominique Robin, property advisor with the Sextant France network RSAC (Special Register of Sales Agents) No. 519613749 Limoges, tel. 06 20 85 33 78 dominique.robin@sextantfrance.fr
To receive more information about this property and to be put in touch directly with our local agent, Dominique Robin, please fill in the form below.
DPE 131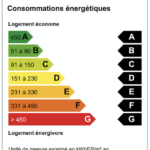 GES 37