This is a unique, magnificent heritage property dating back to the 14th century.
It has been fully renovated to very high standards. The main residence boasts 5 en-suite bedrooms and several reception rooms, as well as a massage space.
The 2 gites each sleep 4-6 persons, allowing you to host friends or family comfortably or undertake seasonal rental activity.
The heated swimming pool and jacuzzi offer the perfect place to relax.
Panoramic 360 degree view over the beautiful surrounding countryside and the nearby fortified town.
The site has the space and facilities for 1 or 2 horses. The truffle oaks are starting to yield a small harvest.
There is also a chapel, available for private use 364 days a year, which lends the property a rich historic atmosphere.
The excellent renovation and contemporary, minimalist redecoration highlight the magnificent architecture of the house.
If you are looking for an exceptional property in which to live the quiet life or run a lucrative hospitality business, the magical property is the place for you! Sales Agent Sextant France – Christophe Advielle agent for SAINT SAUVEUR – more information on www.sextantfrance.fr ref. 7946
To receive more information about this property and to be put in touch directly with our local agent, Christophe Advielle, please fill in the form below.
DPE 92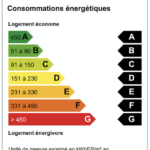 GES 16