This exclusive property enjoys a superb location in Seyssin, in the Dauphinois area of France, close to the Massif du Vercors yet within 10mins drive of the centre of Grenoble. Benefitting from superb panoramic views of the Belledonne mountain range, the property is set in 2504sq m of fully enclosed meadows and landscaped land with lots of trees.
Dating back to 1860 and enjoying 630sq m of living space, this character property has been fully restored, in addition to the building of a further wing. The property features: 6 bedrooms, 2 en-suites, 5 bathrooms, 2 kitchens, a gym room, offices, a home cinema room, terraces, balconies, cellars, an outdoor swimmming pool, garages and parkinh spaces. Located within easy access of shops and public transport.
Within 10 mins of Grenoble, a city in southeastern France, at the foot of the French Alps where the river Drac joins the Isère. Located in the Rhone-Alpes region, Grenoble is the capital of the department of Isère. The proximity of the mountains, as well as its size, has led to the city being known as the 'Capital of the Alps'. Grenoble's history goes back more than 2,000 years, at a time when it was a small Gallic village. While it gained in stature by becoming the capital of the Dauphiné in the 11th century, Grenoble remained for most of its history a modest parliamentary and garrison city on the borders of the kingdom of France. To receive more information about this property and to be put in touch directly with our local agent, Gerard Picaud, please fill in the form below.
DPE 151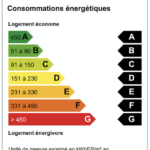 GES 11